Ironing your clothes is not most people's favorite way to spend time.
Especially not if you are ready to go to a party or event and your dress or shirt has a lot of creases.
The Ergo Mini Handheld Garment Steamer is the best accessory for a stylish look because it deals with creases, smells, and bacteria.
With a heating time of just 40 seconds, you will never be late at a party again. At least as far as your outfit is concerned.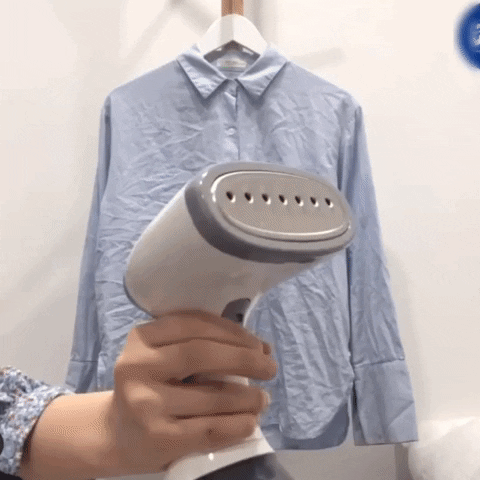 Crease, smell and bacteria-free with steam
Steaming your clothes sounds fidgety, but not with the Ergo Mini Handheld Garment Steamer.
This handheld clothing steamer generates hot steam that releases creases so your clothes and even your upholstery will look fresh within minutes.
The steam also resolves bad smells so you do not need to put delicate clothes through a wash cycle. Finally, because steam is quite hot, it also eliminates 99% of all bacteria and dust mites.
Perfect if you like vintage clothing or sensitive to dust mites. Feel fresh and go out with confidence.
Capacity
The removable water reservoir has a capacity of 280 ml, enough to steam a minimal of 5 minutes.
With brush attachment for coats and upholstery
The Ergo Mini Handheld Garment Steamer has a removable brush attachment that you can use to steam thicker fabrics like robes and upholstery.
Great if you store away your winter coats during the summer or to give them a little bit of freshening up when winter comes back around.
The brush attachments also comes with a depiller that will remove all small hairs and dust particles.
Eliminates 99% of all bacteria
Stuffed animals, pillows and dog beds. Places that gather a lot of bacteria and are hard to clean. The Ergo Mini Handheld Garment Steamer makes this an easy job. The hot steam kills almost all bacteria and gets rid of even the foulest smelling dog scents.
The clothes steamer stops working after 8 minutes automatically so it is safe for us as well.
What's in the box:
Ergo Mini Handheld Garment Steamer, brush attachment, instruction manual
Reasons to choose the Ergo Mini Handheld Garment Steamer:
Creases disappear before your eyes so you do not need to iron anymore
The hot steam makes clothes free from creases, smells, and bacteria for a fresh look
Heats up within 40 seconds so you can start steaming quickly
Kills 99% of all bacteria and dust mites so your clothes, stuffed animals and upholstery is fresh and clean